Ever come across a place online that you probably wouldn't set foot in when it comes to real life, and yet after you've explored it, all you want is to find somewhere just like that in reality?
Welcome to
Barbee
on Second Life, a sim where reality starts falling apart so beautifully that you just know it's possible for it to happen in real life, but can it ever be found?
You arrive and the first thing you see is that you're at a train station- surrounded with beautifully monochromatic plants and the train rails itself are covered in water. Think an overgrown, post-apocalyptic Venice. The mists over the water just add to the mysterious beauty of this place.
Leave the station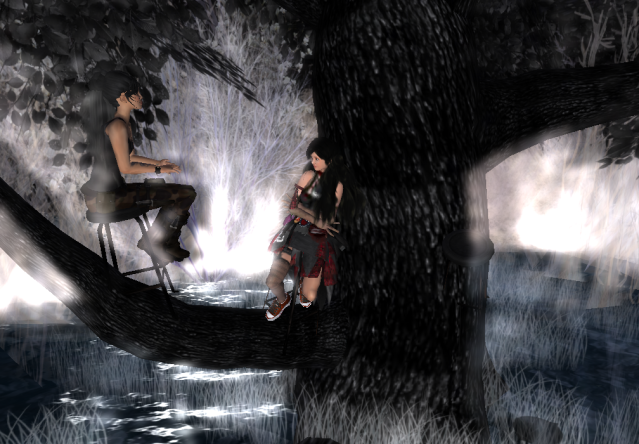 and you walk down narrow alleyways flooded with water, half sunk and the other half dark, dirty, and dripping. It's like the back streets of Tokyo, and if you look closely enough, you may find some hidden gems lying around. Stops of artwork and cafes. The entire sim is surreal and beautiful, misty and enveloping. It's easy to fall into the illusion that this place may exist and yet not exist at the same time, just eluding your senses somehow.
I was set to explore every nook and cranny I could find of this place when I first found it on the Destination Guide, and Soran came to join me soon-after. I admit, I was probably a lot more enthusiastic about the find than she was, as Soran is more used to wide spaces and large areas rather than the small restaurants I was bent on finding.
Barbee is a small sim with only one shop that I could find, and it's half drowned in water. The effects are tantalizing to the eye, and should I find a place like this in real life I probably wouldn't be dressed so casually to visit-- rain boots and waterproof materials may be more appropriate than what I had been wearing at this sim. In fact, should I find a place like this in real life, I may be more hesitant to explore, seeing as it seems quite seedy and may be filled with people I would probably not want to associate with. And yet, on Second Life, I would attribute this to being one of the more beautiful places online, with the creators not erasing the dark atmosphere this place exudes, but rather incorporating it into the mystique.



Other images: